PRODUCTION
Induction bending process and further treatment possibilities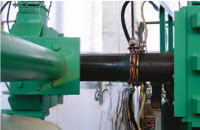 Induction bending process
The induction bending process is used for the forming of pipes. In the aforesaid process, the front end of the pipe to be bent is firmly clamped in a bending arm. A narrow zone of the pipe in the bending area is heated by means of a ring-shaped inductor with a precisely controlled temperature control.
After heating, the pipe is pushed through the inductor at a constant velocity. In this process, the front clamped end of the pipe has to follow the circular movement of the bending arm. The forming takes place in the zone heated by the inductor where the forming resistance is lower than in the adjacent cold sectors.
The forming zone continually moves along the length of the pipe in line with the projection velocity of the pipe, whereby the cold areas on both sides of the heated zone have a stabilizing effect in the forming and a bending with no tools being used internally.
This gives rise to pipe bends with high forming precision and narrow tolerances.
BENDS and WELDS International Products GmbH has continually optimized the induction bending process in the last years and has induction bending equipment with high capacity and flexibility.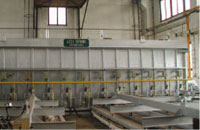 Heat treatment
Depending on the intended application and material grade, it may be necessary to subject bends to heat treatment.
BENDS and WELDS International Products GmbH has many years' experience and databanks on heat treatment. Our gas-heated furnaces has more than 26 high-speed burners, 4 automatic temperature control circuits (Ni/CrNi-thermo-couples, with programmable hybrid printers) and a very large usage area so that large and bulky items can be eavenly treated at the same time.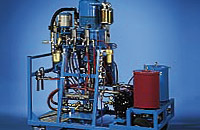 Surface treatment
As a protection against corrosion, mechanical damages and the minimization of surface area roughness (e.g. "internally" in the case of gas transportations), different interior and external coatings may be applied depending on the usage purpose and requirements.
BENDS and WELDS International Products GmbH has its own coating and blast cleaning equipment in order to apply coatings in line with specific requirements. For example, we offer the following:
Descaling and gridblasting
Temporary corrosion protection
Anti-corrision (primer coating)
External plastic coating (e.g. PU - polyurethane)
Inner coating (e.g. EP (epoxy resin)